As wicked and evil as Iago is, it's hard not to love him. Not only does he let you (the audience) in on all his inside jokes and evil schemes, but he's clever, has a deviously good sense of humor and a rather admirable sense of human nature and how to exploit it. He's earned a permanent place in my heart after I've read the play three times and talked about him with friends. I mean this from the perspective of a writer, reader, and student because Iago is fascinating even if he isn't what you would call ethical. We can all agree that he is evil, but what no one seems to agree on his the overall question surrounding this character's actions: "WHY???"
Here's an attempt to figure it out, but I'll be frank here (and you can be Bob)— There is no definite answer.
Motive?
There is a multitude of theories flying around the universe as to why Iago is so hell bent on destroying Othello. He gives us a few reasons, such as being passed over for promotion, for rumors of Othello sleeping with Iago's wife, Emilia. Then, there are the reasons we can infer for ourselves, such as his love for Othello being spurned, to the love of villainy in general. It's a cop-out though, I think, to say that he does it all for the sake of evil. Shakespeare characters always have a human quality about them, and I don't think Iago is an exception.
Like Othello, he is also a soldier.
Much like Othello, Iago is a man of action. Rather than sit around and brood, feeling sorry for himself and his misfortunes, he instead takes steps to exact some kind of revenge for his injured merit or hurt feelings (whatever they may be). On the battlefield, Iago was Othello's ancient, that is, his standard bearer and third in command. It's not explained who died or what changed for the second in command position to open up, but nonetheless, it seemed logical for Iago to be promoted to that position after his years of experience, servitude, and loyalty to his general Othello. But, what's this? Some young, greenhorn, book-learned, and gentile pretty boy named Cassio is promoted instead. And all the while, Iago is patronized by Othello, the man he revered, (as well as everyone else) who verbally pat him on the head and call him "Honest Iago."
Iago's life had been serving under Othello, fighting beside him in Rhodes and Cyprus. So when he's passed over for promotion, his life of service is essentially nullified. This is why I love the comparison made by Harold Bloom in his book Shakespeare: The Invention of the Human between Iago and Milton's Satan (who was probably inspired by Iago). Iago/Satan loved Othello/God so much that the betrayal was felt that much more, motivation a return in kind.
Iago's Relationship to Othello.
Aside from the soldierly bond between them, there is a lot to be dissected and speculated about their relationship. One recurring theme I've come across among critics of this play is the nature of their love. Is it purely platonic? Or is it homosexual? There's a lot of evidence to support both.
Platonic Love.
For starters, it's important to note the shift of their loyalties on and off the battlefield. During war, they are inseparable brothers in arms who would lay down their lives for each other and for their country. When they are back among civilian life, however, these rules no longer apply. Othello's loyalty is now to his wife (at least for a while) and Iago's loyalty seems to fall solely on himself. Being as that may be, they still have their deep bond that was forged in war.
Homosexual Love.
This theory is like candy for anyone who has even so much as dabbled in Freudian analysis, and for anyone who has read the play, the lines tend to smack of homosexual tendencies—and then some. The scene which made me stop and reconsider my perspective of the characters is the infamous mock-marriage between Iago and Othello. No, they don't get married. But they do swear allegiance to each other in words and stage direction that is identical to that of a marriage, what with the kneeling and saying things like "I am your own forever" (3.4.546). The scene begins with Iago attempting to trick Othello into thinking that Cassio was fooling around with Desdemona by fabricating an incident of Cassio supposedly dreaming about her, calling out her name, but sleep-groping Iago who was sleeping next to him. And kissing him. This is a lot of man on man action, if I do say so myself.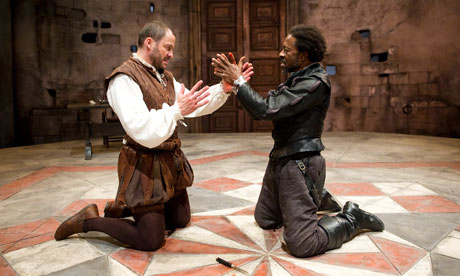 (To be fair, however, the view on homosexuality was much less Puritan in Shakespeare's world. I was once told that there was no word for being gay at that time, though I haven't researched that fact yet…)
Jealousy.
Whether or not it is platonic or homosexual, Iago could be the victim of jealousy. On one hand, Cassio is stealing away Othello's affection, and on the other, so is Desdemona. Othello has new favorites, a privilege that Iago may or may not have ever acquired no matter how badly he wanted it. Additionally, we have the famous line by Iago who says, "O, beware, my lord, of jealousy!/ It is the green-eyed monster which doth mock/ The meat it feeds on" (3.3.195-197). From a psychologist point of view, is this jealousy being projected onto Othello?
Ewan McGregor as Iago
Marriage to Emilia.
The effect of his married life on his motives is left up to a lot of speculation, but we are given enough facts about it to bring it into consideration. The most obvious is the rumors of infidelity. It's mentioned by Iago twice (Act 1. sc. 3 and Act 2 sc.1) that Othello has "done his office" (as in, slept with Emilia), and Emilia even mentions it herself in Act 4. But, he also says, "I know not if 't be true,/ But I, for mere suspicion in that kind,/ Will do as if for surety" (1.3.431-433). My interpretation is that he is grasping at any excuse to take Othello down, any means to justify his hatred. Also, there doesn't seem to be much love lost between Iago and Emilia. There is also a possibility of frustration in his marriage to Emilia if we consider the implication of impotence in Emilia's speech to Desdemona in Act 4.
"But I do think it is their husbands' faults
If wives do fall. Say that they slack their duties,
And pour our treasures into foreign laps;
Or else break out in peevish jealousies,
Throwing restraint upon us" (4.3.97-101)
This implies that all is not well in the sex-life of Iago and Emilia, which would anger any man if a noble Moor could do things to his wife that he was unable to. This is a subtle, but rather profound, blow to any man's pride because, well, it strikes at all things considered "manhood." The impotence in bed, followed by or in unison with the alleged affair of Emilia and Othello is a plausible starting point for Iago's wrath. From here, the gun may have been loaded, and Cassio's promotion the trigger.
Social forces acting against him and shaping his character.
Iago is not a man of gentility. Though he may not have had an extensive education like Cassio, or the wealth to pay for it, he does have an inherent genius about him. As a Venetian, he knows how society works and the importance of status to move up in the world, as he bitterly comments
"'Tis the curse of service.
Preferment goes by letter and affection,
And not by old gradation, where each second
Stood heir to th' first" (1.1.37-40)
Because of his lot in life, that is being of a low class without the benefits of good looks (as Cassio has), he hones his skills as an opportunist. As they do in Venice, he puts on many masks and facades to manipulate people and outcomes. In fact, for all his planning and calculating, it is the chance occurrences that make or break him. The first happenstance that catapults his evil plan into immediate action is the simple act of Desdemona accidentally dropping her handkerchief, the one that Othello had given her as a gift. That handkerchief is used as the evidence to get her sentenced to death. Unfortunately for him, the casual mention of this handkerchief later on is what brings about his down fall.
Emilia.
The only wrench in his villainy machine is Emilia. She is the one who sees what the handkerchief has been used for and that it was used by her husband. Rather than biting her tongue and trying to protect her husband from any consequences, she is instead the one to denounce him to the world, even though it costs her. She is the one character in the entire play who is able to bring some truth to light. This is the first time, throughout the 5 acts of the play, that things don't go his way and Iago kills her for it, but that does not save him from arrest.
As they are about to drag Iago away for inevitable torture, and probably death, they ask him what we all want to know: Why???? To which the bastard replies
"Demand of me nothing. What you know, you know.
From this time forth I never will speak word" (5.2.355-356)